NEW WORKS FOR THE STAGE BY JOSEPH REED HAYES
"Joseph Hayes is one of the new voices that can bring the theater to new audiences. His sense of dialogue and structure, his wit and awareness of the foibles of our society and the humanism that fill the pages of his work make him a true dramatist."

David Amram

"It takes a particular mindset to be a Renaissance man, someone willing to wear the hats of playwright, music producer, freelance writer, radio personality, spoken-word performer, photographer and self-promoter. All those descriptions would fit Orlando arts advocate Joseph Hayes."

Jim Abbott Orlando Sentinel

"A play by Joseph Reed Hayes is a welcome oasis of cultured smarts."

Orlando Weekly

"Writer Joseph Reed Hayes has two nuggets of gold in A Little Crazy, a quiet little two-man comedy inspired by memories of his Russian Jewish grandfather."

Orlando Sentinel

"The briskness of Hayes' comedy, A Slow Ride, belies the title — it's certainly not slow going for an audience."

Orlando Sentinel
UP NEXT: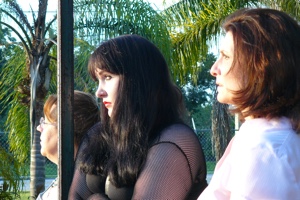 Three generations of women take a Sunday ride, with the humor, affection and near-demented discord that arises when family is in close proximity for more than ten minutes.
"There's both poignancy and joy in the way [Hayes] has cleverly captured the essence of a family's dynamics." - Orlando Sentinel
A life in five acts. With jazz.
FULL PLAY VIDEOS:
36 productions and readings of my plays from coast to coast and in three countries since 2001. From the big stage extravaganza of Tempus to the intimate "living room" drama A Little Crazy, my plays take place on buses and in bars, in hotel rooms and government offices, farmhouse kitchens and jazz stages.
Creator of House Theater Project, live-streaming theater from intimate and non-traditional spaces; and Jazz On Edge, original jazz events presented in unusual spaces. Creator/curator of 13in13, a year-long series of 13 original, creative events written, produced or presented by Joseph Hayes in 2013, which attracted a successful Kickstarter campaign.
Winner: Community Foundation of Jacksonville Art Ventures Fund Grant; United Arts Professional Development Grant 2012, 2009; Florida Division of Cultural Affairs Individual Artist Fellowship; Telly Award; Galati Research Grant; "Playing by the Lake" Festival. Three time associate artist, Atlantic Center for the Arts.

---

Performances

• Destination Moon, Timucua White House 2018
• Bucket Boy, Timucua White House 2017
• Tom Waits For No Man, Timucua White House 2015
• Reading, Timucua White House (with La Lucha) 2015
• Reading, Jazz On Edge House Concert 2014
• Reading, Jazz On Edge 2014
• A Slow Ride, 13in13 Project: Downtown Credo 2013
• Solos, 13in13 Project: Lowndes Shakespeare Center 2013
• If I Had My Way, Theater Row Studios NYC 2012
• A Little Crazy, House Theater Project 2012
• Jazz On Edge 2011
• If I Had My Way, Winter Park Playhouse 2009
• Atlantic Center for the Arts 2007, 2000, 1997
• West Farms, VisionTV, Orlando 2007
• West Farms, Playwrights' Round Table 2007, 2006
• Valencia College Black Box Theatre 2007
• Theatre Downtown 2006
• State Forensics Competition, University of Wisconsin 2006
• Texas Intercollegiate Press Association Critical Writing Competition, San Antonio TX 2006
• Kerouac House 2006, 2005
• Stardust Video (with David Amram) 2005
• Solos, Orlando Fringe Festival 2004
• Downtown Media Arts Center, Orlando 2004
• Tell It To The Bird, Beast Festival, Triangle Theatre, NYC 2004
• After Two, Lake County Repertory Theatre CA 2004
• Chapters on Park (with David Amram) 2004
• A God in Aspect, Charade Drama Group, Bristol, England 2004
• Jazz Gallery NYC (with Brian Groder) 2003
• A Little Crazy, Bill Whitney Players Portland, OR 2003
• ATC Fall 2003 Contest for Original Full-Length Plays
• A Little Crazy, Orlando Fringe Festival 2002
• Eyewitness Theatre, Manchester England 2001